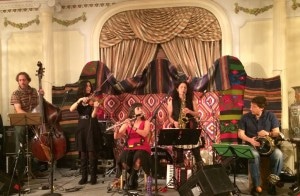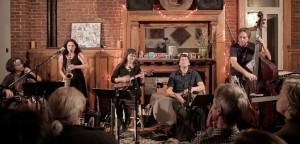 SOPHIE SALONIKA – New Sephardic Music From Brooklyn, NY
• Katie Down (Ukelele, Flute, Vce) • Jessica Lurie (Sax, Flute, Accordion, Vce) •
• Arthur Kell (Bass) • Shane Shanahan (Percussion) • Mark Ettinger (Cello, Vce) •
SOPHIE SALONIKA is a hybrid group delving into Sephardic, Spanish, Turkish and Arabic songs, presenting concerts filled with compelling new interpretations on traditional works, and spicy, original Balkan – inspired compositions with hints of Bluegrass, Whimsical Jazz and Nocturnal Funk. Formed in 2013, Sophie Salonika is led by internationally renowned multi-instrumentalists Katie Down (ukelele, flute, voice) and Jessica Lurie (sax, flute, accordion, voice). They are joined by the in-demand rhythm section of Arthur Kell on Bass, Shane Shanahan on percussion, and Mark Ettinger on cello and voice.
YOUTUBE LINKS:
CONTACT:
Katie Down: glassmusicsound@gmail.com, 917-426-4393
Jessica Lurie: zipamusic@gmail.com, 206-856-7170
www.sofiesalonika.weebly.com