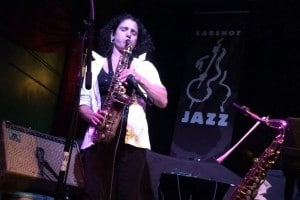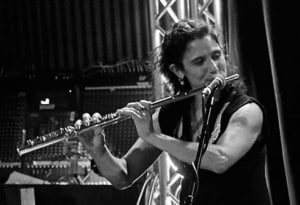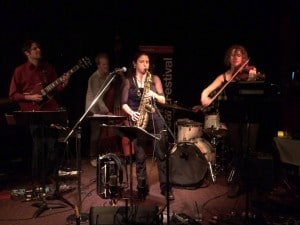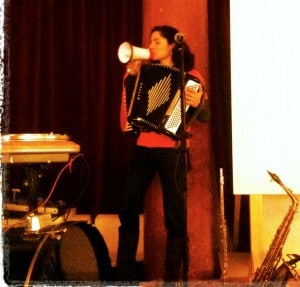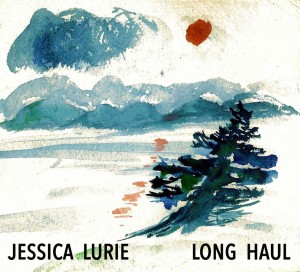 JESSICA LURIE ENSEMBLE  Seattle and Brooklyn-based Jessica Lurie skillfully weaves elements of jazz, soul, folk, rock, and world music into a constantly surprising musical tapestry. Lurie, a virtuosic saxophonist, flautist, and vocalist, boasts an equally rich and personal tone on all three instruments. As a performer, composer and multi-instrumentalist JESSICA LURIE and her Ensemble are poised between creative jazz, rock, folk and avant-garde music, generating a luscious and compelling sea of sound. An adventurous musical spirit shines through her original compositions, with Lurie's unmistakable big sound on tenor and alto saxes, flute, and her distinctive voice. Inspired by life in Brooklyn, traveling the world, and her love of American, eastern and western folk music,  and international melodies and rhythms.
LONG HAUL, Jessica's sixth album as a bandleader, was released in January 2018 on Chant Records and Zipa Music. Lurie's line-up for this session feautures some of the top players in the new jazz scene: Drummer Allison Miller, bassist Todd Sickafoose, pianist Brian Marsella, guitarist Mike Gamble, and special guest trombonist Naomi Siegel.
Recent highlights include recognition in the 2016 and 2017 Downbeat's  "Rising Star for Alto Sax" poll, and the celebrated release of her newest recording Jessica Lurie Ensemble: Long Haul in 2018 on Chant Records and Zipa Music, lauded on several "best of 2018" lists (All About Jazz, Bird is the Worm, ZealNYC).Current projects include The Jessica Lurie Ensemble; Tiptons Saxophone Quartet & Drums;  TEPHRA Sound with Helen Gillet and Nikki Glaspie; Living Daylights jazz-funk trio, Sephardic music group Sophie Salonika, Jewish Afro-beat Zion80; Veveritse Brass Band, Freethiopiques (1970's inspired Ethiopian jazz/funk) as well as collective improvisation groups Slingshot (with Heather Bentley and Beth Fleenor), the experimental Far Cry Flutes with Robert Dick,Jamie Baum and Elsa Nilsson and Full Fathom Five with Seattle saxophonist Skerik.
Performances and /or recordings with international artists include Taylor Mac, Devotchka, Helen Gillet, Fred Frith, Billy Martin, Mike Clark, Skerik, John Zorn, Cyro Baptista, OU, Todd Sickafoose, David Krakauer, Bill Frisell, Jenny Scheinman, Bill Horist, Robert Dick,  Jamie Baum, Chuck D,  The Indigo Girls, Mark Ribot, Eyvind Kang, Karl Denson, Frank London,  Allison Miller,  Vinicio Caposella, Nels Cline, Amy Denio, Jacob Fred Jazz Odessy, Kenny Wolleson, Sleater Kinney, Bernie Worrell and Ivan Neville among others. She collaborated on over 30 multi-media works with visual artist Danijel Zezelj, theater companies Great Small Works and Circus Amok.  Jessica can be found performing internationally at festivals, universities, clubs, social centers and clinics. She composes for a variety of ensembles as well as multi-media performance, dance, theater and film; an enthusiastic educator, she also designs and leads creative workshops on improvising and composition in the USA and Europe.
As a leader, co-leader/collaborator and featured guest, Jessica has recorded extensively, receiving critical acclaim from Billboard, Downbeat, New York Times, eMusic, Jazz Times, All About Jazz, The Seattle Stranger, LA Weekly, Earshot Jazz,and on radio stations worldwide including US National Public Radio, Italian, Austrian, German, Croatian and Slovenian National Radio. The Jessica Lurie Ensemble is internationally touring group includes many well known artists on the jazz and alternative music scenes. Regular band-mates include: Todd Sickafoose on acoustic bass (Ani DiFranco), Allison Miller on drums (Brandi Carlyle, Ani DiFranco), Brian Marsella (piano, synths) , Erik Deutsch on keyboard (Shooter Jennings,Charlie Hunter), and Brandon Seabrook on banjo and guitar (Frank London, Naftule's Dream). Other regular guests include Mike Gamble (gtr), Naomi Siegel (trombone), Will Bernard (gtr), Scott Amendola (dr), Jon Evans (bs), Nels Cline (gtr) and Julie Wolf (pn), Robert Kainar (dr) Zeno de Rossi (dr), Danilo Gallo (bs), and Giorgio Pacorig (pn).
Jessica's other CDs are available through CDbaby.com and for digital download at: iTunes and eMusic.